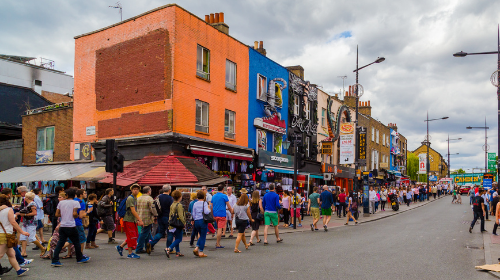 05 Jan

The New Dawn For UK High Streets: Change Or Die

In her latest for Forbes.com, our founder Kate Hardcastle discusses the importance of UK high streets and what must be done in order to revive them. 

As Covid-19 has disrupted nearly every aspect of our lives, it has changed our behaviour as consumers for the long term. Emerging trends such as the reconnection with the great outdoors and a desire to shop local, whilst choosing to spend on experiences over material goods, have accelerated in 2020. The appetite for shopping online has grown out of a necessity but has enchanted new converted customers in how easy it is to compare prices, and discover new brands and products.

Whilst the effects of some of these trends and the ongoing pandemic can be felt on high streets across the UK (vacancy rates are at a five-year high), there is still great value in our towns: they can be places to cure loneliness, encourage activity and social interaction, boost wellbeing and bring our communities back together. But they must evolve if they are to survive, and fast.

Walking down most UK high streets today, I feel like I'm in a place which was designed for a different era. An era before mobile phones, online shopping and – with the exception of a pint of milk and a loaf of bread doorstep drops by local shops – home delivery services. Without significant change, these places which were once the heart of our local communities, simply may not have a place in our lives now.

In the South Yarra district in Melbourne, Australia, you'll see the blend of skate parks, football pitches, dentists and nurseries within the typical shopping precinct, a prime example of high streets that evolved around the needs of the people who use them.

Our local communities are places to live, learn, work, play and socialise – as well as shop – and our high streets need to reflect and serve those needs becoming more relevant to us.

This approach to change must be collaborative and the goal should be to create human high streets. This need to evolve has never been greater but some of the solutions to ensure the survival of our high streets for 2021 and beyond may be simpler than we imagine:

Working Together

These important changes all start with an important ingredient – collaboration.

By working together and forming alliances across public and private sectors, we can build the human high streets that our towns and cities so desperately need.

Planners must understand and put first the needs of the people they're building places for and we need a collaborative approach to repurposing our high streets which involves multiple stakeholders – namely those who use them.

A Place For Everyone 

The evolution of our high streets into centres for our communities to come together, must offer essential facilities clean washrooms, accessible changing areas, reliable and affordable transportation links and the constant reassurance of safety at all times of the day.

Getting the basics right is a must to ensure the experience can serve all the potential users and visitors, including the elderly, disabled, families and pet owners.

Technology can be enabled to enhance this – for example with local click and collect services, interactive maps and connectivity to the story of the place.

Building Inclusive Communities

There is huge opportunity for town and city centre planning to address social inclusion. We face into a growing isolation epidemic and bringing people together in spaces that are fit for purpose is essential. Therefore our high streets need to be multi-functional and serve as places for each and everyone of us in society. Getting creative with serving different parts of the community at different times – for instance how could a local school benefit from the space during the day, that the rest of the population can use on evenings and weekends. Building solutions around everyone who could use and need the space to enable connectivity for us to meet and share experiences.

More Than Retail

It is clear that our high streets can no longer be just a place to shop. But retail can still play an important role in the new generation of 'place' particuarly if the offer can pivot to suit consumer buying trends.

As consumers focus increasingly on ethical and environmental issues, they are looking to organisations to step up and be more responsible and buying habits are evolving around this. There is renewed excitement about micro-manufacturing and local retail, so vibrancy in the retail offer must include businesses great and small. Should we look to our more successful, larger organisations to create the space and encourage growth of smaller, local businesses and see this as an opportunity and not a threat.

It is important to engage with the continued opportunity of the experience economy – certainly we have seen a flourish of beauty services on our high streets – but as people want to learn more, and crave unique life events – how can hospitality, the arts, sport and movement and education placer a richer role?

For UK high streets to become vibrant and successful again, we must reshape them as places we don't just go to shop, work or dine, but as places we can go to work, live, exercise, play and use health and wellbeing services too. Let's also not forget the importance of joy – we've needed it this year and our high streets can provide a conduit for bringing a little into our everyday lives, whether that's through experiences, culture or simply being together.

Communities That Feel Like Home

In 2020 our homes transformed into a one-stop shop as a place to work, eat, rest and play. Our towns and cities need to reflect the way we live our lives today.

Embracing our urban beauty spots in the same way we appreciate our green spaces, we also need to combine exercise, arts, socialising and shopping as we safely welcome visitors back to our towns.

We need embrace the entrepreneurial vibrancy from local businesses to use the empty spaces to their full potential whilst the longer term transformation takes place.

I've seen climbing walls set up in vacant shops, encouraging children to try a new sport, and busy farmers market pop-ups in shopping centres featuring local artisans and microbusinesses.

Showcasing small businesses and events which can't be found elsewhere will help high streets forge their own identities and break away from the homogenised models.

Our town and city centres should deliver something unique for their communities, building on a sense of spirit, place and pride.

Our high streets are the heart of our communities and can be a huge conduit in bringing people together, particularly our most vulnerable or isolated members of society. I've seen some great initiatives in the past, such as a UK shopping centre hosting tea dances and exercise classes for older people in partnership with AgeUK– these simple ways of working together can often be most effective.

If we're serious about saving our high streets we must put partnerships and collaboration at the top of the agenda and we must listen. Listen to those with a vested interest in our high streets. Listen to those stakeholders we never even knew existed. Listen to and learn from those leading change and doing things differently.