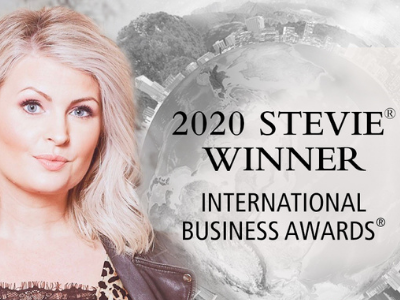 18 Sep

IWP Founder Kate Hardcastle Wins International Award

IWP founder Kate Hardcastle MBE has won international recognition for her work during the coronavirus pandemic with a Stevie® Award in 2020 International Business Awards®.

Kate is a regular media contributor and TV presenter often seen on BBC, Sky, ITV, Forbes and CNN.

Kate and our team here at IWP give back 20% of time as standard, to support small businesses free of charge, through mentoring, workshops and 121s, through the Access for All programme. Over the past decade, we've helped over 1,200 small businesses who would not normally be able to afford access to the expertise and support on offer.

After seeing the effects of the Coronavirus outbreak on small businesses, we doubled the giveback to 40% and founded the UKs first online festival of small business – Indie Business Live.

This commitment to giving back, combined with the ongoing growth of IWP, was praised by the award judges, with their comments including, "Kate is an amazing example of a CEO with a vision…always thinking, innovating, creating and giving back."

The International Business Awards are the world's premier business awards program. All individuals and organizations worldwide – public and private, for-profit and non-profit, large and small – are eligible to submit nominations. The 2020 IBAs received entries from organizations in 63 nations and territories.

More than 3,800 nominations from organizations of all sizes and in virtually every industry were submitted this year for consideration in a wide range of categories, with winners and nominees including IBM Corporation, Tata Consultancy Group, Cisco, Bank of America and DHL Supply Chain.

Stevie Award winners were determined by the average scores of more than 250 executives worldwide who participated in the judging process from July to September.

As the ongoing COVID-19 crisis will prevent winners from receiving their awards on stage during a traditional gala IBA banquet, winners will be celebrated instead during a virtual ceremony on Tuesday, 1 December.

Kate said, "I'm thrilled to be recognised with this highly esteemed, international business award. Myself and the IWP team have been working immensely hard over the past 6 months, to serve both our clients and our community projects, it's truly special to be recognised alongside some amazing winners."

The Stevie Awards have been hailed as the world's premier business awards and were nicknamed the Stevies from the Greek word for "crowned". Details about The International Business Awards and the lists of Stevie Award winners are available at www.StevieAwards.com/IBA.