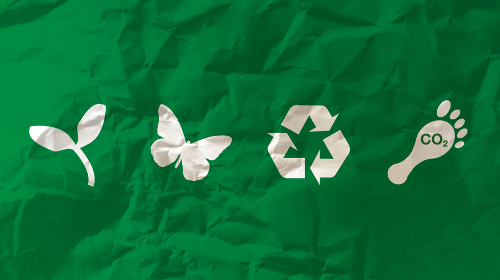 31 Mar

Is it Time for Business to Embrace Realistic Environmentalism?

In recent days, significant awareness events have taken place to prick our collective conscience and remind us of the immediacy of the climate crisis. Landmarks around the world have turned off their lights to highlight the issue during "Earth Hour". The fashion and beauty magazine Marie Claire has hosted a sustainability festival to challenge the 'throw-away' fashion culture.

This week also marks the start of the worldwide #EarthOptimism movement, a 10-day event backed by Sir David Attenborough, Chris Packham and Liz Bonnin, with the aim of celebrating those working to protect the future of our planet. Is now the time for businesses to celebrate any and all achievements in making improvements relevant to environment – no matter how small?

During 2020, there was an increased awareness of environment and sustainable living amongst consumers, and with less people traveling for work and pleasure – social media seemed to be alive with more appreciation for nature and the planet.

The cessation of travel helped cause a sharp reduction in air pollution but in stark contrast there was a dramatic increase in one-use products such as masks and plastic gloves and in many places a slowing down of recycling programmes, due to the practicalities and safety measures driven by the Covid-19 pandemic

At the start of 2021, English broadcaster, writer, naturalist and campaigner, Sir David Attenborough called for further action to be taken to help save the planet, with a key message of 'it's not too late!'.

"We are at a unique stage in our history. Never before have we had such an awareness of what we're doing to the planet and never before have we had the power to do something about that. Surely we all have a responsibility to care for our planet. The future of humanity and indeed all life on earth now depends on us."

We now live in a world where companies big and small, are afraid to tell us what they are doing to save the environment for fear that it's never going to be enough. It is imperative that we are all working together towards promoting "realistic environmentalism" and celebrating ALL that we are doing, no matter how small.

And 39% of shoppers say they will have a more environmentally friendly mindset when out shopping as a result of Covid-19 (YouGov). Consumers need and want to do more to become more sustainable as a society, but how is business shifting to respond to the growing focus on environment? Here are three businesses that understand the importance of the growing consumer focus on buying with care.

A growing trend is that of clothes rental and recycling, which has now progressed to the children's market too. Laura Roso Vidrequin, a London-based mother of one was determined to revolutionise the way parents across the world shop by providing a circular-economy solution around children's clothing. In creating Kids O'clock, which is a platform focussed on recycling clothing for babies from birth up to 10 years old, consumers are encouraged to list their own pieces, rent, or buy clothes from others at a fraction of the retail price. With 80% of a child's wardrobe worn only a handful of times and approximately 8-10 sizes that take a child through from birth until 3 years old – it could arguably be a sector that accounts for a large proportion of clothing and textile waste.

Another sector beginning to feel energetic change of consumer environmentalism is the fresh flower market. In the UK alone, demand for cut flowers and ornamental plants in 2018 was worth £1.3 billion, according to government statistics. Approximately 90% of that total are imported flowers, with the majority coming from the Netherlands, grown in heated greenhouses which release large amounts of CO2.

Florist Shannon Thomas from Jennie's Floral Designs based in Wales, works to highlight the "devastating impact" that buying cut flowers imported from abroad can have on the environment. The 27-year-old, was recognised at this year's Young Innovators Awards, as part of a growing movement of sustainable florists striving to reduce the industry's carbon footprint.

With food waste and packaging being hot-spots in consumer consciousness, Yoghurt brand YEO Valley has launched a new campaign "Small wins to help put nature first" to highlight its sustainable packaging. Understandably consumer expectations when it comes to responsible food packaging are high, and many brands may shy away from revealing smaller milestones for fear that it may not be 'enough' or steps should have been taken sooner. This campaign to highlight that some change is in progress and that small steps are indeed still positive is an approach we may start to see more businesses adopting.

After all – we are in this together – business owners and consumers of the world. We must all contribute to our planet in our own way. To make big changes, often we must start small.

Taken from an original article by Kate Hardcastle MBE for Forbes.com. For more insights from Kate, follow her on Twitter and LinkedIN.