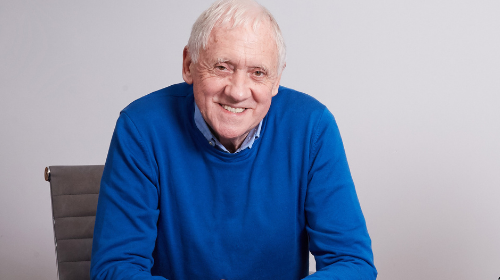 13 Jan

Executive Advisor Harry Gration MBE: Brands & The Over 55s

Older people are driving the surge in online retail and could be instrumental in the bounce back of the UK economy, but brands must work harder to serve them, says Insight with Passion's Executive Advisor Harry Gration. 

2020 saw more over 55s than ever embrace online shopping, but this market has an entirely different consumer outlook and brands must understand and cater to their needs, if they are to fully maximise the potential of this market.

We have an ageing population

The proportion of older people as a proportion of the population is growing, with people over 65 set to comprise 27% of the population by 2030 (Retail Think Tank).

This group often tends to have higher wealth than other demographics and is more likely to be a homeowner than those in younger groups. Whilst this group may not spend the most on certain items like fashion, as a group overall, they comprise a huge market, particularly for items related to home improvement and health and wellbeing. Despite their extra cash, that's not to say that this group are going to automatically be large spenders, consumers within this group may be less open to innovation and may require more time and information to make purchasing decisions and build relationships with brands, compared to younger shoppers.

 

We can't ignore older shoppers

A report commissioned by JD Williams found that 8/10 British women aged 45+ do not feel represented enough in TV adverts, with 70% feeling ignored by the high street. I have to say that speaking from experience, being made to feel invisible is something that only increases with time! It's ironic to think that such a huge proportion of shoppers with significant spending power sees themselves reflected so little within the brands they want to connect and spend their cash with. I'd love to see a retailer like M&S place some public figures in its advertising who really have resonance with its core shopper.

Brands must stop homogenising older shoppers

We often see 'over 65' as a catch-all age category, but within this group you may find so many people at different life stages with differing life experiences. This group could contain everyone from a CEO at the top of their game, to a retired adventure seeker, a grandparent enjoying a new lease of life caring for grandchildren or someone who is still parenting younger children. If we delve into it in more detail to better understand the core life events that will shape us as consumers, you might for example have a 65-year-old baby boomer and their parents within this group, all of whom will have had very different life experiences – one group will have grown up against the backdrop of WW2, the other during the 'swinging' 60s. As a result, their preferences, needs and behaviour as consumers will be markedly different and it's important that this is reflected by brands in their product and service offering.

 

Older people are driving the growth in online shopping

With more older people than ever shopping online in 2020 and much of this growth attributed to COVID-19, I believe it's more important than ever that brands invest in this valuable consumer group to deliver a better online customer journey.

In the last 12 months, 65% of people aged 65+ have shopped online, compared with 16% in 2019 (YouGov). Waitrose has seen huge growth in its over 55 shoppers venturing online, with 23% now shopping online regularly with the retailer, compared to 8% in 2019.

For an older person is facing mobility issues, online retail services such as home delivery and click & collect make perfect sense for them but things such as issues with eyesight deterioration can make online shopping (especially by mobile phone), a tricky experience at times.

Research has found that many older online shoppers feel 'ignored' when shopping online and whilst some are incredibly tech savvy, some find the lack of human communication via websites challenging, especially when there is a service issue (Price Runner). 50% of people surveyed also miss the social interaction of shopping in a physical retail store.

The answers can be simple though – deliver a human service at all times and get older shoppers involved in the development and testing of websites and apps to ensure their journey is smooth. They may seek a little more time and when it comes to shopping in-stores, a more personal experience, but provide them with these and you may enjoy profitable, long term relationships with some of your most loyal shoppers.

How about we start referring to our 65+ shoppers as our 'golden' shoppers and treat them as the valuable customers that they are? After all, many could be living their very best chapter, enjoying more time and money to spend on themselves and their families, embracing a truly golden part of their lives and ultimately purchasing more products and services as they do so.

Harry Gration is a veteran BBC broadcaster with a glittering broadcasting career spanning six decades. Following his retirement from his longstanding role as BBC Look North news anchor in 2020, he now supports brands both in the UK and abroad in better understanding and communicating with those consumers who are aged over 55.