29 Dec

Doing The Right Thing

Giving back is in our DNA and is a fundamental part of Insight with Passion.

Through our unique. community giveback programme Access for All, our team donates 20% of our time free of charge, to supporting community projects, microbusinesses and startups, through mentoring, 121 support, events and building strategic partnerships.

We believe this investment of valuable time, expertise and support is far more impactful than any cash donation and allows beneficiary organisations to derive true and lasting benefit.

Our founder Kate Hardcastle has also donated hundreds of hours supporting numerous local authorities and charities, throughout 2020, providing strategic advice and creating alliances between different sectors and organisations.

Over the past decade we've supported over 1,200 organisations and 2020 has seen us dedicate more time than ever to this vital work, as thousands of small businesses and community organisations felt and continue to feel the devastating impact of the pandemic.

Here's what we've been up to:

Supporting 1,000s of small businesses across the UK 

When the UK entered national lockdown in March 2020, we received crisis calls from scores of small business owners who were desperately concerned about the impending lockdown and overwhelmed with the often lack of and overcomplicated information available online.

We quickly developed a COVID-19 response strategy, creating a dedicated support area on our website with helpful information covering everything from government funding to marketing and strategic advice, helping businesses to pivot wherever possible. In addition, we offered individual guidance and mentoring, opening up all our channels of communication to any business in any sector.  Our founder Kate Hardcastle has also shared her expertise via media and free webinars, supporting hundreds of businesses, in addition to using her platform as a broadcaster to celebrate and champion small businesses in the media wherever possible.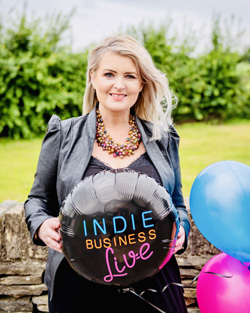 Founded and launched Indie Business Live in July 2020, the UKs leading small business festival
By July 2020, we could see small businesses owners were still in desperate need of support and knew that something bigger was required to support small them and highlight their importance to our local economies and communities. In addition to needing the public to be aware of their plight, small business owners also needed a morale boost and the very first Indie Business Live event provided just that.
This groundbreaking event was the first of its kind to bring all sectors together and launched within 4 weeks of conception (30th July) with no corporate sponsorship or financial support. It was a huge success, combining celebrity guests and a showcase of the best independent businesses, bringing together industry bodies and providing a collective voice for UK small businesses.
The campaign was a huge success and reached 1.75m people online, highlighting the importance of small businesses to local economies and communities and encouraging consumers to support them. Funded entirely by Insight with Passion, our team dedicated hundreds of hours to organising it, alongside our day to day client work.
The Indie Business Live website continues to feature a wealth of supportive resources for small businesses and a growing directory of independent businesses. After our second event in November, we'll be back with even more support and events for small businesses in 2021.
 "I loved taking part in Indie Business Live and I'm so happy I got to show my business and my ideas to help other young people who might want to start their own business too" 
Feedback on Indie Business Live from entrepreneur Avaiyia Rae Cottle (12), aka The Kookie Kid.
Support for British Farming and Agriculture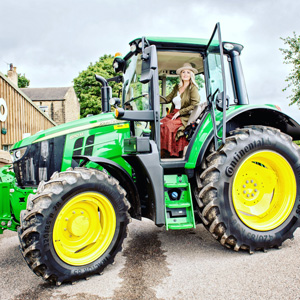 We're passionate about shopping local and supporting British-made products and a huge part of this is UK farming, so it was only apt that we dedicate support for the industry through a partnership with the Farm Retail Association, where we delivered workshops, advice and support for hundreds of farmers across the UK. In addition to dedicating our resource to this vital sector, our founder Kate Hardcastle joined the Advisory Board for Women in Food and Agriculture, enabling us to fully embed ourselves in the sectors and deliver even more support.
We shared lasting advice for British food producers with a series of features in UK Speciality Food magazine, all aimed at providing UK independents with business advice, ideas and solutions to survive and thrive in the current situation.
Committed to Supporting the Vital Work of UKactive
As founders of Women in Sport North, we've always been committed to promoting sport, movement and physical activity and we're proud to support UKactive in this important mission.
We continue to support with strategic advice and guidance and Kate Hardcastle has twice delivered keynotes at the UKactive National Conference, sharing her expertise on how the physical activity sector can better reach consumers on our high streets and support the regeneration of towns and cities – something we believe is vital for the future of local economies and communities. Wouldn't it be wonderful if our high streets became places we didn't just go to shop or dine, but as places where people of all ages could enjoy movement and social activity whilst accessing health and wellbeing services too? Which leads us perfectly on to the work that is resonating particularly strongly with us right now.
Championing our Great British High Streets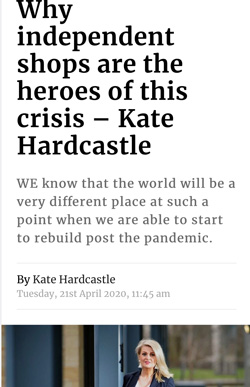 For decades we've supported local authorities across the UK with placemaking and driving forward the evolution of UK high streets. We've stepped up this work in 2020 and are helping placemakers better understand consumers, with a view to creating high streets of the future.
Wherever possible, Kate Hardcastle will use her media platform to champion this desperately needed change and the important role that small businesses play in ensuring our high streets remain vibrant and unique. Here's our latest piece on high streets, whereby we shared 5 ways they need to change, and fast.
Celebrating Women in Business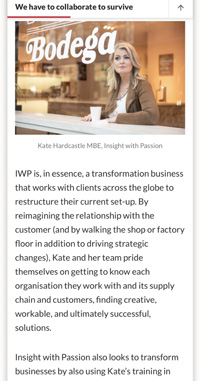 This year, we've supported businesses of every size and type and a diverse range of business owners ranging from teenage startups to established family businesses.
In 2020 our focus fell to helping female entrepreneurs, as statistics show that women are set to emerge from the pandemic facing greater economic challenges.
Our female-led team hail from a variety of backgrounds, with decades of experience in different sectors and industries and we will continue to use this to grow and inspire the next generation of women in business.
What a busy year!
It's been a tough year for all of us but we've genuinely loved helping every single small business owner, charity and individual and we won't ever stop.
Whilst things like awards, PR and recognition are great, we simply did all of this because it was the right thing to do and never seek anything for our efforts (although a thank you is nice!). You can imagine our surprise when no other than Apple co-founder Steve Wozniak heard about our work and decided to leave us a little video message….!