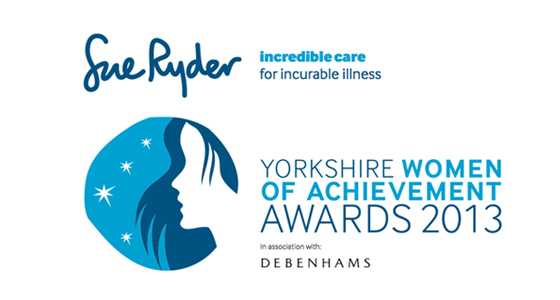 Today I got the fantastic opportunity to attend the Yorkshire Women of Achievement Awards, as our very own Kate Hardcastle, was honoured to be nominated for the business category.
I have never attended an event like this before, and YWOA did not disappoint.
Not only was this a fantastic event to celebrate women in Yorkshire it was raising funds for Sue Rider and in particular the Wheatfields Hospice located in Leeds, which helps to enrich the lives of those with terminal illness, and enjoy the time they have.
Liz Green seamlessly presented the afternoons events, which honoured Yorkshire women for their achievements. Clarence Dock was filled with 49 inspirational nominees together with 600 guests. The awards were spread over 4 award categories;
Women achievement in business- won by Krystyna Rodgers, for over 20 years dedicated to the re-invention of the Bradford Ice Rink.
Women achievement in Education – Awarded to Janice Wild for years of dedication teaching dance to all ages in Crossgates, Leeds. Well known for her 'Janice Juveniles,' the group of older dancers who help her run the school and generous donations to charity over the years.
Women achievement in Sport – Marjorie Carter received this award for the life time dedication she has given to gymnastics. Including competing in 2 Olympic games and setting up 2 gymnastic competitions a year in Leeds.
Young achiever of the Year – The talented Hannah Starling was awarded this honour after her recent successes in multiple diving competitions in recent years including winning the first medal by a British female in the world championships in Australia.
The Jane Tomlinson Award for courage – This was simply the most exceptional and heart-warming award of the afternoon. Awarded to Dr. Kate Granger who, when told she had a terminal illness made the decision to stop taking her life pro-longing medication, to return to work as a doctor in a Wakefield hospital and enjoy the time she has left. Kate's story was so inspirational, and struck a nerve with everyone who attended this event today. Not only has Kate returned to work as a doctor, she and her husband have now raised over £60,000 for charity.  Dr Granger was also deservingly named Overall Woman of Achievement 2013.
Gabby Logan also received the, brand new this year, 'Yorkshire Rose Award.' This was to recognise her becoming the first chancellor of Leeds Trinity University. Not only this but Gabby has showed persistence to make it to the top of the very male dominated sporting industry. This is something we are very passionate about here at Insight with Passion.  Kate Hardcastle is non-executive director at Bradford Bulls, One of very few female directors in sports, and is determined to encourage more women to get involved with all sports.
Seeing all these women working hard to achieve their goals, really inspired me and excited me for my future working at Insight with Passion. The event really did show off the very best of Yorkshire which I can't wait to experience more of as our Customer at the Heart Awards hit the road for the Summer Roadshow, around Yorkshire and Lancashire. Additional work equaling to 8000 volunteered hours by the IWP team dedicated to schools, colleges, universities and charities ranging from RSPCA to the Eve Appeal.
Not only did this event highlight Yorkshire, it showed me the importance of confidence in those who want to achieve great things. This excites me to work on the Positive Image campaign supported by Insight with Passion's access for all initiative.
On show today was the huge commitments made by the ladies acknowledged today, for them to achieve their goals and be successful in what they do. This shows the importance of the Positive Image campaign, designed to inspire confidence in young people, so they can follow in these role model's footsteps and be the best them they can be.
The Yorkshire Women of Achievement Awards today made me leave feeling proud to be a 'Yorkshire Lass', born in his fantastic county and was a great end to my first week with Insight with Passion.
Emily Clark
Insight with Passion
Social Share