Whilst the impact of Coronavirus continues to be felt across the UK, a number of fashion brands are joining the national effort to fight the spread and effects of the virus. Here are five that are supporting the NHS, charities and communities through initiatives including PPE and mask production, donation of vehicle fleets and rewards for NHS employees.
Barbour
Barbour is now producing PPE, including medical grade gowns and scrubs, for local NHS facilities in the northeast of England, where the company is based.
The company initially worked with the Royal Victoria Infirmary in Newcastle – the first hospital in the UK to treat patients with the virus – and delivered the first batch of disposable gowns to the hospital on Good Friday. Staff were reported to be 'extremely grateful', praising the 'quality' of the garments. It will now move to a larger scale production of gowns and scrubs for the RVI and other North East NHS trusts to support frontline medical staff who are in urgent need of these items.
Burberry
Burberry has joined a legion of luxury fashion brands in the fight against coronavirus, leveraging its supply chain to make emergency deliveries of medical equipment and using its Yorkshire factories to manufacture hospital gowns and masks for patients.
The London-based fashion house advised that it is using its global supply chain network to fast-track the delivery of more than 100,000 surgical masks to the U.K. National Health Service, for use by medical staff.
It is also repurposing its trench coat factory in Castleford, West Yorkshire to make non-surgical gowns and masks for patients. Production and distribution will be subject to approval from the Medicines and Healthcare Products Regulatory Agency.
Burberry is also funding research into a single-dose vaccine developed by the University of Oxford, via an undisclosed donation.
ELLE
The Cheshire-headquartered, family-run hosiery business announced on 14thApril that it has switched all its manufacturing capabilities from the production of tights to washable face masks, to ease the demand on medical equivalents for frontline healthcare staff across the UK.
ELLE can produce 350,000 washable masks per week in its factory, which usually makes over 12 million pairs of tights a year. The masks are constructed from a double layered material, which has antimicrobial properties and are also treated with additional antimicrobial and water-repellents, for extra protection from the droplets in the air.
The masks are available from elle.co.ukand one will also be included within every order of tights, along with guidance on wear and maintenance.
"With such a huge demand on surgical masks for frontline health care professionals we wanted to ease this strain and supply an 'every day' option as part of social distancing guidelines. So instead of making tights we are now making masks.  This isn't commercial decision but the right thing to do.  We are making just enough money to cover our costs, keep our colleagues in jobs and in turn support their families," said Anja Khan, chief executive at ELLE.
 Kurt Geiger
When the British footwear and accessories brand was forced to close its 70 UK stores, it pledged 55 gift cards worth £100 each to every intensive care unit in cities where it has a shop. It has also asked its 2,500 store staff to volunteer for community initiatives run by Age UK while they remain on the payroll. Chief executive Neil Clifford is also suspending his salary until stores reopen. The company will also give NHS workers a 50% discount for a year, when lockdown is lifted.
Net-a-Porter
After closing its warehouses and suspending operations in the UK, the online fashion retailer has donated its company fleet to seven AgeUK charities in London. The vans are being used to delivery essential food and medical supplies to socially isolated and vulnerable communities.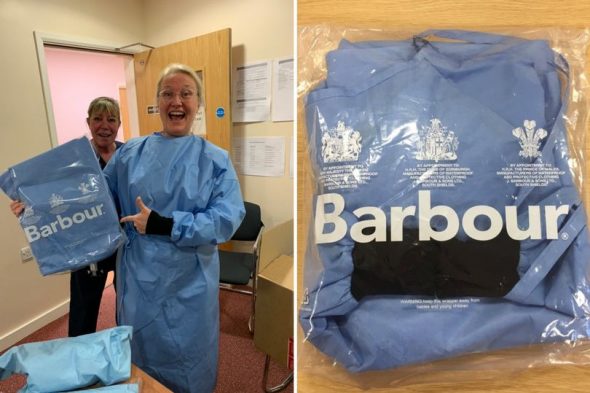 Image Credit – ChronicleLive.co.uk
Social Share