Our Access for All programme received awareness and recognition at Number 10 and on Channel 5 this month, as Founder Kate Hardcastle was crowned Tesco Mum of the Year. Her work with IWP's unique scheme is recognised, which includes Positive Image and the Charity Dreamgirls.
Access for All means that 20% of our time is dedicated for free to help charities, community projects, social enterprises and start up entrepreneurs. Find out more, and how to apply here.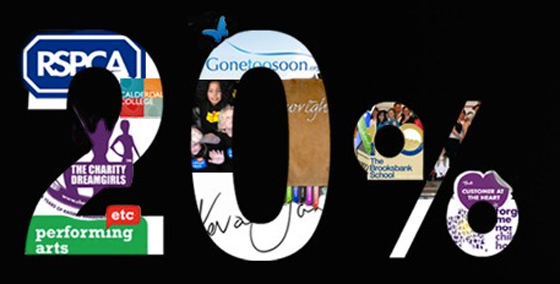 The Channel 5 coverage of the awards can be seen below:

The broadcast – described as 'Honouring courageous and inspirational mums' aired with the synopsis as follows:
These unsung heroes, who have been nominated by friends and colleagues, are the focus of a lavish lunch and awards ceremony at The Savoy in London hosted by Fiona Phillips and with an audience of famous faces joining the winners' families. Channel 5's exclusive coverage also features live entertainment from global music stars Il Divo, who have sold over 26 million records worldwide, and the UK's hottest vocal harmony group The Overtones.

Categories include Courageous, Community, Achieving and Campaigning Mum with recipients from Liverpool, Midlothian, Middlesex and other parts of the UK. Following in the footsteps of Gabby Logan and Sally Dynevor, the winning Celebrity Mum of 2013 has been named as Spice Girl Mel C.
The Tesco Mum of the Year Awards 2013 was hosted by Fiona Phillips and, alongside this year's incredible winning mums, guests will include stars from stage, screen and sport.
Commissioning Editor Greg Barnett says: "I am delighted to be bringing such an inspiring and emotionally-charged event to Channel 5. On a day when we celebrate mums, Channel 5 and Tesco will be championing some of Britain's best."
Kate was also invited to Downing Street to meet the Prime Minister David Cameron as part of the celebrations.
Meanwhile, catch up with Kate behind the scenes along with the 5 other national winners in the video below:

Read what Tesco Magazine said about the Enterprising Mum of the Year:
Kate, 36, from Huddersfield, created a community group to raise awareness of lesser-known charities, as well as running a company that dedicates 20 per cent of its time to charitable work.
Our judges said: ''Kate has worked incredibly hard to create her own business, and has always ensured that helping those less fortunate remains a huge part of this.''
When Kate realised that many UK charities weren't getting the exposure they needed to raise funds or recruit volunteers, she decided to celebrate her thirtieth birthday by organising and performing in a one-off charity concert.
She wrote to a number of huge Motown stars to see if she could enlist their support. When Smokey Robinson sent a video message and Martha Reeves committed to fly over from the USA to perform, it exceeded her wildest dreams.
The concert was a sell-out success and Kate decided to set up an organisation that would continue to run events raising awareness for smaller charities that couldn't do it themselves. The organisation, set up in 2007, was called Charity Dreamgirls. 'I created the group as a way to give a voice to smaller charities,' says Kate.
'There are 180,000 charities in the UK – all competing for the public's attention and money. If you are a smaller charity, how do you get yourself heard? I knew I could bring my skills from the corporate world to support them and create fun events people would want to get involved with.'
To date, the group has organised over fifty events to help eleven charities around the UK, including the Yorkshire branch of the RSPCA, Leonard Cheshire Disability and The Stroke Association. This year, it is supporting the Willow Foundation, the Retail Trust and Overgate Hospice.
Having built a successful career advising companies on how to revitalise their businesses, Kate then decided to set up her own company in 2009. Insight with Passion also supports charitable work with staff devoting 20 per cent of their time, energy and resources to projects that are close to their hearts. 'I think it's important to give people the motivation and support they need to get involved with charity work,' says Kate.
Our Access for All Programme will receive awareness and recognition on Channel 5 this week, as Founder Kate Hardcastle is crowned Tesco Mum of the Year. The award incorporates Kate's work from Insight with Passion through our scheme designed to give 20% back to charities, community projects, social enterprises and start up entrepreneurs.
This includes work for Positive Image Campaign, The Charity Dreamgirls, and more found at our dedicated page.
'When I was young, I wrote to Anita Roddick and eventually got the opportunity to meet her. I was so inspired by the way she managed to combine business with making a real difference to the lives of others. This is what I'm hoping to do with my company and projects.'
Kate's latest campaign is called Positive Image, and she hopes it will inspire confidence and positive body image in young people and to tackle issues such as obesity, anorexia, self harm, suicide and bullying. 'I was bullied myself for a long time at school. I spent weekends in my bedroom wishing it was alright to go to the museums I wanted to because that wasn't cool. Everything comes from a lack of confidence – for the bullies too.'
Kate is mum to Nya Ella, 3, and manages to juggle her work commitments with a little help from her own parents who help with childcare. 'Sometimes when a meeting is cancelled I ring my mum and ask where they are and rush out to play in the park with them for an hour. Equally, if my train home is late I don't have to worry that she'll be out on the street! When I go abroad for meetings Nya and my mum come with me. My long term plan is to just be the best mum I can be.'
Kate, who was nominated by her colleague Jenny, says: 'I've been inspired by people who have worked hard and used their voice to change things and make a difference. Charity work has always been at the heart of what I do and I'm honoured to be recognised for that.
You've got to help other people because one day, you might be the person that needs help. I haven't been able to help of thousands of people all over the world like my heroine Anita Roddick – but don't put it past me because one day I might just yet!'
Kate's quickfire questions can be watched below
Social Share