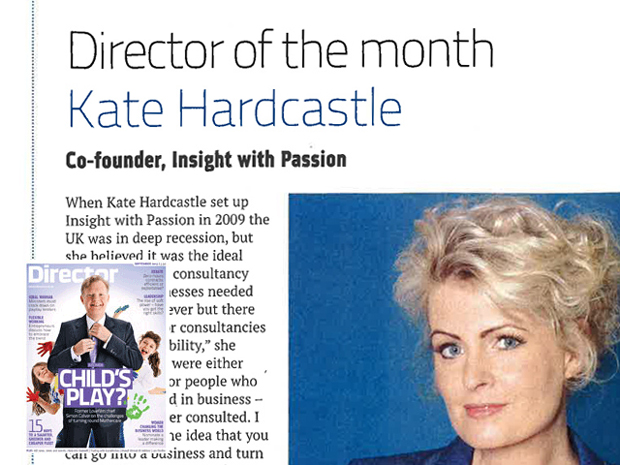 Our Founding Partner Kate Hardcastle is featured in this month's Director Magazine.
In her interview with Hannah Barker, Kate explains:
"Businesses needed more help than ever but there was a real gap for consultancies with actual capability,"
"There were either one-man bands or people who had never worked in business – they had only ever consulted. I don't invest in the idea that you can go into a business and turn it around if you've never been in a boardroom and had those debates yourself."
Four years on and Insight with Passion is flourishing. The company has grown year-on-year, runs offices in Leeds and Manchester with a satellite base in London, and employs 10 full-time staff as well as 30 consultants. But, admits Hardcastle, the last few years haven't been without challenges.
"When we started we thought we had a decent-sized network but it needs to be so much bigger than you ever imagine. It's also difficult because as a consultancy we're reliant on testimonials but often, because of non-disclosure agreements, we can't talk about projects we've worked on – it's frustrating."
Hardcastle says she is proud of Insight with Passion's Access For All scheme. "I always wanted to set up an ethical business and Access For All was a chance to give back – we dedicate 20 per cent of our time every day to community and charity projects. We have already given 10,000 hours back, which is amazing."
Alongside Insight with Passion, Hardcastle also runs two charity campaigns – Charity Dreamgirls and Positive Image. "Charity Dreamgirls was set up seven years ago and is a community-based group of volunteers who raise awareness for smaller charities around the UK by holding events," she explains. "Positive Image launched last year and is about inspiring confidence in young people. We go into schools and colleges to hold seminars, and we celebrate people with interesting careers – whether that's a mechanic or a fashion buyer – because we need to create more positive role models for youngsters, who often lack self-belief."
Earlier this year Hardcastle was appointed as a non-executive director to the board of rugby league club Bradford Bulls – she was the first woman on the board. "My board is very supportive of the fact that I'm equal to them. I was selected because I was the right person for the job, but in terms of the larger sport there are still some antiquated views at the top. All I can do is ensure that my club has a future."
So what's her advice to new entrepreneurs? "You have to be passionate about what you're doing because it's challenging out there. Also, make sure you test the market. If you can't sell to a complete stranger then you need to reassess."
Looking ahead, Hardcastle wants to grow her company in the UK. "We're four years on from our first clients and we have real success stories to tell. I want to spread the message and develop the business as well as focus on more social responsibility projects."
My inspiration
Who? [Dame] Anita Roddick. I wouldn't be doing what I'm doing if it wasn't for her. I wrote to her when I was a teenager and she met me and gave me nearly an hour of her time. She was honest and offered encouragement.

Book The Tipping Point by Malcolm Gladwell. It's fact-based and has lots of useful examples and case studies.

Saying Two ears and one mouth – use them in that order. My nan always used to say that to me.

Brand Disney and Innocent. Disney has magical value. Innocent was co-founded by another guy from Huddersfield [Richard Reed], like me. They're always true to their brand.
Favourite place Yorkshire. I like to spend time in the place I'm from.

Can't live without Music and any device that plays it. I listen to music all the time – I love it.
The piece comes as IWP's impressive speaking programme continues as Kate will be speaking at the Institute of Directors Women as Leaders Conference at the Grange Hotel St Paul's. She is one of many successful entrepreneurs who will share stories, tips and advice on 15 November.
Now in its seventh year, this engaging and popular event provides you with an opportunity to network with your peers and hear from the very women who are stimulating, revitalising and growing business worldwide. Whether you are at the top of your game,climbing the corporate ladder, or want to better understand the benefits diversity can bring to your company, make this event a date in your diary.
Despite the progress made in the last century, the percentage of female directors on boards is still low. At this conference you can hear from and question the women who have made it to the top of some of the biggest international brands. These women business leaders have traits that other aspirational business women would be wise to emulate. Find out what motivates them and how they overcame the barriers they faced in order to achieve success.
The subject of women on boards and in business continues to populate the column inches of papers and magazines even more significantly these last twelve months; it remains highly topical.
"The notion that women should not play an equal role with men in the boardroom is not only unjust, but – equally importantly – inconsistent with the efficient functioning of a modern economy. I am absolutely convinced that the IoD must assume a position of leadership in advancing the cause of diversity on boards and in other leadership positions."
Simon Walker, Director General, IoD
"There is clearly strong momentum and progress towards better gender-balanced FTSE 100 boardrooms, with the latest statistics showing 48 per cent of new non-executive director appointments since March 1 being women – 30 out of 62 – but the lack of female executive director appointments shows there's a lot to be done to build a sustainable pipeline."
Helena Morrissey CBE, CEO New Investment Management & founder of 30 per cent club
The IoD describe Kate as:
Having become a multi award winning business woman, saving the fortunes of many businesses and creating multimillion £ value brands, before establishing her own business – Insight with Passion. Kate has spoken on world stages on her specialist topics of Business, Brand, Marketing & Customer Focus. The Keynote speeches are sell out, & Kate speaks alongside names such as Bill Clinton, Joanna Lumley & Michael Jordan to name a varied few.
Insight with Passion has been tremendously successful as a business, in the 4 years since launch – helped by Kate's rising media profile. Kate is the go-to expert for the BBC, ITV, ITN, SKY, CH4 & 5 on her areas of expertise in retail, business & turnaround.
Social Share