Well thanks so much for the CATH nominations – its always a pleasure to hear just how many of you are passionate about great service in retail, beauty, food, hotels and more.
We are now starting to work through your nominations for a mystery shoppers to complete their visits – and this weekend – we headed to the village that has the most nominations and a thriving high street – Hebden Bridge.
Our tester and group were thrilled at the positive and engaging attitude from this quaint village on the Yorkshire/Lancashire border – and couldn't believe the full car (paid for) car parks and overspill facilities being used. Undeterred and with list of nominations in hand – our tester team went to check out if the service, product range, knowledge, interior and exterior appearance, staff, service, personability and 'magic touch' were in order.
From the list of businesses suggested, we are delighted that the following have been awarded at Customer at the Heart award – and we recommend a visit tout suite!
Winners
The gorgeous HEART is an art gallery with a difference, artist in residence (see next note), Sunday soul music, amazing products and in-depth product knowledge sees this store as a CATH winner. heartgallery.co.uk
Heather Wilson, was the hugely passionate artist in residence at Heart. With a thriving business, time for everyone and an enchanting love for her art – it was another CATH winner for this amazing talent. http://heartgalleryblog.wordpress.com/tag/heather-wilson/
Words will fail you when you look at the sheer excellence of retail that is the Yorkshire Soap Company. It would actually be a plot spoiler if we explained just why this business is as good as it is – but its amazing retail theatre, clear offer and passion for a job done well – we have to insist you rush there straight away and stock up on gifts and treats. http://theyorkshiresoapcompany.co.uk/en/content/7-locations
The toyshop of your child hood dreams  – The Old Treehouse, is just around the corner in Hebden Bridge with child friendly retail displays that allow children to play and experiment. At child's height and with child friendly music in the background, the toys are open and ready for play. A lovely collection of unusual and non plastic treats and clothing (and a BABY CHANGING FACILITY) this retailer puts many high street stores to shame! http://www.theoldtreehouse.co.uk/
A florist with beautiful theatre, patience and starter handheld posies that can make someone days for £5 (astonishing these days) The Willow Garden is celebrating 20 years in business – and our team could see why. http://www.thewillowgarden.com/
Spirals Fair-trade Retail shop was a fantastic testament to the vision of Fair-trade and contains a wealth of products that are gorgeous for you and your home, and ethically sourced. The staff here literally beamed all the way through the mystery shop visit. These smiles could be a saving grace for many a failing retail high street and the passion and knowledge is refreshing. http://www.spiralsfairtrade.co.uk/
So a big well done to all the winners. If you know Hebden Bridge and your retail or service business isn't listed here – it could be that they weren't nominated. So don't delay – change that today.
If you want your business or a business you admire to be put to the test – then please nominate them for a CATH today – wherever they are in the UK – our team can put them to the consumer test.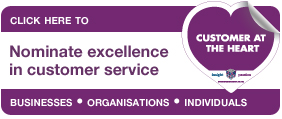 If you need a boost to your business  - the Insight with Passion team can get you heading for the stars – give us a call for a free consultation today.